Friday, June 3, 2011
Greetings from FREP!
Please visit our Website for additional information and updates on activities shared in this newsletter
FREP ACTIVITIES
FREP Noon Network
Wednesday, June 15, 2011

Noon - 1:30 PM


Program:

Hawks Bluff Park, Batavia Park Dist.
Jim Eby, Director of Planning & Development


Location:

Meet at Hawks Bluff Park, Batavia
950 Twin Elms Lane, Batavia See directions below Maplink

Hawks Bluff Park is 30 acres of wetland, upland prairie, oak savanna remnant, and a portion of the Mill Creek stream corridor and remnant Oak Savannah. Use of permeable pavers in the parking area.

Other amenities include large picnic shelter, multilevel playground, sports court with basketball and practice tennis wall, asphalt and wood fiber trails totalling a mile, challenge course, small amphitheatre area, and a "Jens Jensen type" council ring. Recipient of $266,900 OSLAD development grant.



Directions:

From Randall Rd. go west on Main St. to Deerpath Rd. Turn south on Deerpath to intersection with Limestone Dr. Go left on Limestone Dr. to stop sign. Go straight at stop sign to intersection with Bird Ln. Go left on Bird Ln. Follow Bird through neighborhood and as it bends to the south it becomes Twin Elms Ln. Continue south on Twin Elms Ln. to the parking lot at the intersection of Twin Elms and Kane Ln. Turn in the south entrance of the lot please.
Upcoming Noon Networks:
Wednesday, August 17, 2011

Noon - 1:30 PM


Program:

Focus on Silver Creek Watershed Planning

Location:

TBA
Wednesday, October 19, 2011

Noon - 1:30 PM


Program:

Focus on Ferson-Otter Creek Watershed Planning

Location:

TBA
FREP members, potential members, and the general public are welcome to attend FREP meetings and programs.
Learn more about activities in the watershed and network with others. FREP Meeting Minutes can be found HERE.
Program Presentations Online:

Many past Noon Network and meeting program presentations can be found in pdf form on the FREP Website HERE.
Special Invasive Plants Workshop Offered
Wednesday, June 22 1-3:30 PM

FLYER


Invasive Plants: Nature's Troublemakers


Learn how to identify invasive plants that take over our yards, woods, and nature preserves - crowding out the native plants that provide habitat for birds and animals.


Instructor:

Cathy McGlynn, Coordinator
Northeast Illinois Invasive Plant Partnership Website


Location:

Lake Barrington Village Hall
23860 N. Old Barrington Road 60010



Co-sponsored by:


FREP & Flint Creek Watershed Partnership

FREE -- Please RSVP to Patsy Mortimer
pmortimer@earthlink.net

Thank you to Patsy and the Village of Lake Barrington for helping to make this possible. Cathy spoke to a large group at our FREP meeting in January.

We will be arranging a second workshop for the southern part of the Fox watershed in the next few months.

The following document is available
on the NIIPP Website:


FREP Meeting -- Annual Picnic
July is the month for our Annual FREP Picnic

(in place of a meeting) Date TBA
Jason Pettit, our Recreation Committee Chair, is currently making arrangements for a visit to Farnsworth House and a picnic at the nearby Silver Spring State Park in Yorkville. There is a really interesting Lumenhaus feature at Farnsworth House, now through July. Website

We are looking at a later afternoon event, possibly on our regular meeting date of Wednesday, July 20,
or Friday, July 22. There will be a fee to tour Farnsworth House. The picnic will be "bring a dish to share"

Please watch the FREP Website news page for details, and our early July Downstream.
FREP Government Relations Committee
Our Annual: Conversations About Conservation With Our Legislators




Friday, September 23, 2011

Registration and networking at 9:30am
Kendall County Historic Court House, Yorkville

Representative Kay Hatcher will be the keynote speaker. All senators and representatives from the watershed are invited to attend. Please join us to hear the latest from Springfield (like IDNR funding, cuts to OSLAD grants, and legislation that impacts our watershed). This is a wonderful opportunity for you to meet your representatives, ask questions, and let them know how their votes impact you.

More details to follow as the date gets closer. Please plan on joining us for the morning.
Are you interested in learning more about current environmental legislation?

Please contact Katie Parkhurst at 847-658-4184 or katieparkhurst@algonquin.org.

Watershed Planning
The Chicago Metropolitan Agency for Planning (CMAP) is the delegated authority for the region's areawide water quality management plan. CMAP has an agreement with the Illinois Environmental Protection Agency (IEPA) to complete four watershed-based plans within the Fox River Basin. Watershed planning commenced Sept. 2010 in Blackberry Creek and Ferson-Otter Creek watersheds (Lower Fox River, Kane and Kendall counties) and in Sleepy Hollow Creek and Silver Creek watersheds (Upper Fox River, McHenry County). Funding for these projects was provided by the IEPA through Section 604(b) of the Clean Water Act (CWA).

Read more about the project and information about each of the four watersheds HERE.
Watershed Planning Meeting Schedule:
Meetings are open to the public, anyone interested is welcome to attend and participate.
Blackberry Creek Watershed Meeting




Tuesday, June 21, 2011

2 - 4 PM




Yorkville City Hall Council Chambers


Contact Tara Neff: 630-428-4500, Ext. 23 tneff@theconservationfoundation.org Webpage



Ferson-Otter Creek Watershed Meeting




Tuesday, June 28, 2 PM


Trotter & Associates
40W201 Wasco Road, Suite D, St. Charles

Contact Tara Neff: 630-428-4500, Ext. 23 tneff@theconservationfoundation.org Webpage



Sleepy Hollow Creek Watershed and Silver Creek Watershed Meeting




Tuesday, June 14, 1:30-3:30 PM


City of McHenry 333 S. Green Street,
City Council Chambers, McHenry MAP

Contact Lynn Rotunno at: 815-338-0393 watershedinfo@mcdefenders.net Webpage
Additional Watershed Planning Groups
There are other active watershed groups involved with planning and implementation activities. Visit our Subwatersheds page for more information or these specific Websites/Webpages:

Tyler Creek Watershed Meeting Wednesday, June 15, 4:30 PM
Judson University, Elgin Linder Tower – 2nd Floor

Jelkes Creek Watershed Meeting Wednesday, June 15, 7 PM, West Dundee

Spring Creek has also begun the planning process. Contact info is on our Subwatersheds page
EPA Website that should be helpful to all the planners:
Healthy Watersheds
FREP Noon Network May 18 honored Dick Young
There was a great turnout for the Noon Network on May 18th featuring the Blackberry Creek Watershed and one of its greatest assets, Nelson Lake Marsh and the Dick Young Forest Preserve. Drew Ullberg of the Kane County Forest Preserve District gave a tour and shared great stories about the late Dick Young and what he meant to this area.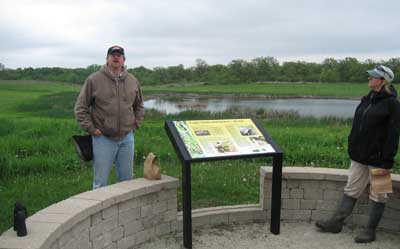 Jason Pettit of Kendall County Forest Preserve District (below, left) also shared memories about Dick, who actually lived in Kendall County and did so much work in that area as well. Drew provided the group with paperbags of seeds, and each participant helped sow seeds as we walked the area.
Fox River Guide & Website
A new publication is currently being developed and plans are for it to be distributed later in June: The Citizen's Guide to Preserving the Fox River. It will feature articles and photographs "to engage more local residents in protecting their Fox River." The Conservation Foundation (TCF) and FREP are working together on this project.

The companion website is already up, and will be expanded in the coming months. Visit it at: preservethefox.org
Other Activities & News of Interest
If you have an activity or event you'd like FREP to share on our Website or in the Downstream, please email the information to Becky at: foxriverinfo@comcast.net
Saturday & Sunday
June 11 & 12
Noon to 4 PM

Garfield Farm Museum's 1840's Days


Campton Hills Road, off Rt. 38, west of Geneva Website
Discover what life was like over 160 years ago. The event offers children and adults the opportunity to learn about their rural heritage through guided tours and period demonstrations.
Admission fee
Saturday, June 11
8:30 AM - 3:30 PM

Electronic Waste Collection for McHenry County residents


McHenry County College Flyer
Saturday, June 11
9 AM - 3 PM

Oakwood Hills Village Lake Festival


North Beach & Park Flyer
Sunday
June 12
McHenry County Conservation Foundation's Annual
Pedal-Paddle Through the Prairie Website
Glacial Park
Friday, June 17
11 AM - 2 PM

Algonquin's Conservation Community Day, 11 AM - 2 PM


Woods Creek Website
Saturday
July 30

Chase the Moon Midnight Bike Ride

Website
Sponsored by The Conservation Foundation
Starts at Warrenville, ride through Fermilab
Fee Registration Required
Funding Opportunity
Lake County -Countywide Watershed Best Management Practice (BMP) Implementation Program Request for Project Proposals


he Lake County Stormwater Management Commission (SMC) is planning to apply to the Illinois Environmental Protection Agency (Illinois EPA) for Clean Water Act Section 319(h) grant funds to support the countywide implementation of watershed best management practices (BMPs) that are identified in or supported by an existing watershed-based plan*. This new Countywide Watershed BMP Implementation Program is intended to provide cost-share grant funding to support the implementation of watershed protection and restoration projects and programs that prevent, eliminate, or reduce water quality impairments caused by nonpoint source (NPS) pollution in the nine Lake County watersheds that already (or soon will) have a watershed-based plan.


Deadline: Wednesday, June 29.

Detailed RFP Document
National Park Service Rivers, Trails and Conservation Assistance

Website
Every year, the National Park Service helps hundreds of locally-driven projects that create opportunities for healthy outdoor recreation, connect youth with the outdoors, and connect communities to parks. Rivers, Trails, & Conservation Assistance from the National Park Service provides no funding, but our experienced staff can help communities plan for success.


Applications accepted until August 1.
Other News/Information
Illinois RiverWatcher Summer 2011 Newsletter
Becky Hoag, Communications Manager, Fox River Ecosystem Partnership 630-482-9157
foxriverinfo@comcast.net Please Email me if you have an Email to add to our mailing list.
FREP WEBSITE: foxriverecosystem.org

This newsletter is posted on the FREP Website on the Downstream Newsletter Archives Page