Wednesday, April 10, 2013 Greetings from FREP!
Please visit our Website for additional information and updates on activities shared in this newsletter
FREP Noon Network
Wednesday, April 17, 2013

Noon - 1:30 PM



Program:

Celebration at Johnson's Mound Savanna
Led by Drew Ullberg, FPD of Kane Co.


Location:

Johnson's Mound Forest Preserve
Hughes Road, approximately 1 mile west
of Fabyan Parkway
Blackberry Township, Elburn

FREP members and friends are invited to help District staff plant pot grown trees and talk about the preserve's local and regional ecological importance.
Officially THE first purchase of the newly formed Kane County Forest Preserve Commission, Johnson's Mound Forest Preserve was a humble 98 acres in 1926. Today the preserve covers 743 acres. Used for family reunions and LaFox community picnics well before it officially became a preserve, Beeler's Grove – as it was locally known -- has both a long ecological and local human history which when taken together add to the preserve's site-wide appeal and importance.

Ecologically, "the Mound" is a glacial kame today dominated by mixed-mesophytic oak-hickory woodland containing dry-mesic forest and savanna components. Wetland, stream corridor and farm fields are also prevalent today across the vast preserve. The original 1838 Government Land Office maps of area indicated Johnson's Mound was not wooded, but actually mapped within a vast prairie island. The site has well drained, gravelly soil that generally would not support a dense forest community, rather prairie, or black oak barrens.

Detailed soils maps created by the USDA in the 1970s then revised in the late 1990s indicated wide bands of soils formed under prairie and savanna vegetation dominated the site. To more fully restore savanna conditions at the Mound woodland, staf run and contracted tree thinning operations commenced in 1996. Re-creation of oak savanna across open fields north of the Mound began here in 2007 and shall continue through 2014.
Upcoming FREP Membership Meeting

Wednesday, May 15, 2013

1 PM


Program:

Outlook for the Fox River Watershed:
Fox River Study Group Update, Biologically Significant Streams and Outstanding Resource Waters


Presented by:

Cindy Skrukrud, Clean Water Advocate, Illinois Sierra Club and Chair, Fox River Study Group


Location:

Algonquin Village Hall
2200 Harnish Dr., Algonquin


July 19, 2013

Annual FREP Social


Kane County Cougars Game



Instead of a meeting this month, we are organizing an outing to a Kane County Cougars game in Geneva.
The Cougars are now part of the Chicago Cubs organization, so this should be a great opportunity to see their new Class A minor league team up close.

Details about ordering tickets will be in the May Downstream and on the FREP website.

Bring your family and friends for this fun outing.

Future Noon Networks

Wednesday, June 19, 2013

Noon - 1:30 PM


Program:

Flint Creek Streambank Flood Plan Restoration Project


Location:

Village of North Barrington Hall
111 Old Barrington Rd., North Barrington

Details of the project will be presented, followed by a tour of the project.
Your suggestions for FREP Noon Networks are welcomed. We feature projects, best management practices, and topics of interest to the FREP membership and general public, and move these programs around the watershed to reach a larger audience.

The programs are informal and often include a site tour of a project. They are publicized in the local papers and we often get interested people from the community who would like to find out more about a new environmental project in their community. We need a location where a group of approximately 20 can gather for the presentation. If a tour is involved, it is helpful to have this location near the project.

Noon Network still needing programs are:
Wednesday, August 21, 2013
Wednesday, October 16, 2013

To arrange to host a FREP Noon Network, please contact Becky Hoag, Communications Manager,
630-482-9157 foxriverinfo@comcast.net
Fox River Summit in Wisconsin


FREP President Katie Parkhurst and several FREP members attended the Summit with our Wisconsin Fox River neighbors on March 22. She shared details of the Summit at our April 5th meeting. We hope to continue this new connection and FREP members will be working on hosting another summit here in the Illinois Fox Watershed next year.
Other FREP Meeting News:


At our April 5th meeting, Jeff Mengler was elected to the position of Vice President, to replace Kerry Leigh, who has taken a position in Rockford and is unable to attend all of our meetings.

A request was made for a new FREP Representative to the Fox River Study Group (FRSG), to replace Matt Bardol. Matt is going to continue to attend FRSG but is "wearing a different hat" for that now. Candice Jacobs of Kane-DuPage Soil & Water Conservation District has agreed to be the new FREP representative. Thank you Candice! We are fortunate to have several FREP members participating in FRSG, though they "wear different hats" on that board. Click HERE for a link to the FRSG website.
FREP members, potential members, and the general public are welcome to attend the FREP Noon Networks and meetings and programs. Learn more about activities in the watershed and network with others.


FREP Meeting Minutes

can be found HERE



Program Presentations Online:


Many past Noon Network and meeting program presentations can be found in pdf form on the FREP Website HERE.
Special event in the watershed:
Free Guided Nature Walk at Dixie Briggs Fromm State Nature Preserve


Sunday, May 5, 2013 2 PM


Starting from Eastmoor Lane, Alonguin (See directions below)
What is so special?

Because the preserve was littered with Glacial Erratic boulders, the area west of the creek was never plowed; only grazed.


The original pre-settlement prairie remains and several rare species have managed to survive browsing. The 5th of May walk is special as the Cream Wild Indigo, Baptisia leucophaea, should be in bloom. This spectacular plant is noted on page 106 of Kane County Plants by Dick Young to be "possibly extinct." We have written to the Nature Preserves Commission that "If we can stand in one spot and point to over 30 bushes, perhaps it will become Ground Cover!"

The Prairie Buttercup, Ranunculus rhomboideus, should still be in bloom. It is an even earlier bloomer than the Early buttercup and is not listed in Dick Young's book as having been found in Kane County. Our original 35 plants have progressed to 127 at the last count.

On the walk you will visit a Gravel Hill that has escaped the mining companies. It is home to several Threatened and Endangered species. On the top of the hill there is a rare Calcareous Fen. All year round Ground water seeps out some 40ft. above the Dixie Creek below.

You will see the results of a major project undertaken to restore the horrendously eroded Dixie Creek. The stream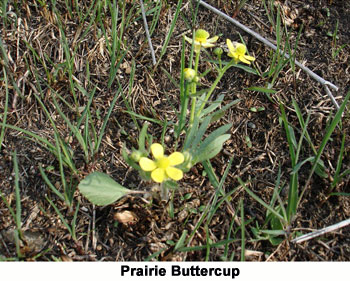 banks were re-shaped to provide a slope allowing the stream level to rise without the banks being eroded. Whole hillsides were repaired with Geogrid, wider mesh than sandbags filled with a potting soil/sand mix. Above these terraces burlap, that had been sprayed with water soluble glue then sprinkled with native seeds, was anchored. Around these restored areas an 18" chicken wire fence with strings stretched across was installed to keep geese from being able to take-off in a hurry; even the deer did not like the string!

You will be walking on mown trails with six Aldo Leopold benches to rest on. There are 5 bridges across Dixie Creek. The walk includes passing a Sedge Meadow and a wooded area with Black Locust trees. You guide will point out items of interest along the walk which normally takes between 1.5 and 2 hours. Come and enjoy the start of another of Mother Nature's inspirational annual displays.

This property was saved from development by Dundee Township Open Space Department acquiring it from the heirs of local farmer Dixie Briggs Fromm.
Directions:

From Randall Road take County Line Road east to the 2nd stop sign to make a right turn onto Sleepy Hollow Road. Turn left at the first stop sign onto Wynnfield Drive headed east. The third street on the left is Lawndale Drive and a short way down on the right will be a dead end street called Eastmoor Lane. The street has no driveways, no traffic and provides great parking space. Roadside signs will direct you.
Thank you to amazing Dixie Briggs Fromm volunteer Al Wilson for providing this wonderful description and photos.

To go on a tour of this nature preserve with Al is an absolute treat. This is his passion and he has so much information to share.
Legislative Focus
Thank you to Jack Darin, Director of Sierra Club-Illinois, for giving such an informative presentation at our Legislative Focus meeting on April 5. Also, thank you to the Forest Preserve District of Kane County for hosting this meeting at their great facility at Brewster Creek in St. Charles.

A pdf of Jack's presentation,

2013 State Legislative Agenda: Illinois' Energy Future,

has been posted to the FREP website HERE. One of the main topics was fracking and the implications of it's introduction in Illinois. Jack spoke about all the environmental issues and current regulatory deficiencies related to fracking, which are being addressed in HB 2615. The public now needs to show their support for this bill.
The next opportunity to connect with legislators is

Thursday, May 2 at the Environmental Lobby Day 2013 in Springfield

. This is sponsored by the Illinois Environmental Council, with other groups like Sierra Club joining in.

If any FREP members would like to participate, here are the details sent to us from Illinois Environmental Council:
Environmental Lobby Day 2013

This is our most important event of the year where the environmental community sees great progress in moving environmental bills. Illinois' environmental organizations combine forces for an impressive show of support.

Register here. You must register by April 25, but we would appreciate your early registration so that we can prepare for your arrival. Also note below that if you'd like a hotel room for Wednesday night, there are earlier deadlines to reserve your room.

If you need help getting to Springfield and are a student or young professional, IEC's Young Professionals Board is funding scholarships for you to get to Springfield. Apply for these scholarships here. If you are a student and have questions, e-mail Illinois Student Environmental Coalition director Kimberly Rowan at Kimberly@ilenviro.org for more information.
Below is additional information for Lobby Day 2013. I hope you can join us. If you have any other questions or comments as you are registering, please indicate these on your registration form and we will get back to you.

Best, Jen Walling Executive Director Illinois Environmental Council Website

Lobby Day Details:

Thursday Arrival Options from Chicago


Buses - Faith in Place is chartering buses from River Forest United Methodist Church in River Forest or Sixth Grace Presbyterian in Chicago. If you'd like to take the bus, simply choose that option on the registration form and we will contact you with additional information.
Train - You can take the 7AM train leaving Chicago and 5PM train returning to Chicago. You'll have to purchase your own ticket at amtrak.com.



Wednesday Arrival Options


Join us on the evening of Wednesday, May 1 for a reception with legislators and training!
Wednesday Night Reception Information:
5:30pm-7pm- Reception with legislators as invited guests with a light dinner at Cafe Andiamo
7pm-9pm- Training with small groups rotating through during the block of time Cafe Andiamo



Schedule for Lobby Day


8:30am-12:00pm- Lobby
Lunch at the Capitol
1:00pm-3:00pm- Lobby
3:30pm- Wrap Up at Cafe Andiamo
FREP Membership Roll for 2012-13
Posted below are those who have supported FREP through membership dues this year.
The

FREP Membership Roll for 2012-13

is also posted on our website HERE.
Links are provided for those members who have websites
Michael Ander, Friend, Sleepy Hollow
Applied Ecological Services
Barrington Area Conservation Trust
Barrington Area Council of Governments
Batavia Park District
Campton Historic Agricultural Lands, Inc./
Garfield Farm
Campton Township
Cardno ENTRIX
City of Crystal Lake
City of Elgin
City of Geneva
Linda Cole, Friend, Aurora
Nancy Cox, Friend, St. Charles
John Church, Friend, Oswego
The Conservation Foundation
DeKalb County Forest Preserve Commission
Deuchler Environmental, Inc.
Bill Donnell, Friend, Aurora
Dundee Township
Environmental Defenders of McHenry County
Flint Creek Watershed Partnership
Forest Preserve District of Kane County
Fox Metro Water Reclamation District, Oswego
Fox River Water Reclamation District, Elgin
Fox Valley Park District, Aurora
John Frerich, Friend, Batavia
Geneva Park District
Geosyntec Consultants
Barbara Gore, Friend, Aurora
Fred Houdek, Friend, Elburn
Holly Hudson, CMAP
Kane Co. Development & Community Services Dept.
Kane-DuPage Soil & Water Conservation District
Kane County Farm Bureau
June & Steve Keibler, Dundee


Kendall County Forest Preserve District
Kendall County Soil & Water Conservation District
Lake County Forest Preserve District
Lake County Stormwater Management Commission
Lake in the Hills Sanitary District
Rob Linke, Friend, St. Charles
Living Waters Consultants
Julie Long, Friend, St. Charles
McHenry County Conservation District
McHenry County Conservation Foundation
Oswegoland Park District
Jason Pettit, Friend, Aurora
Larry Rakunus, Friend, St. Charles
River Corridor Foundation of St. Charles
Kathleen Bergan Schmidt, Friend, Crystral Lake
Nancy Schumm, Friend, Lake Barrington
Sierra Club, Illinois Chapter
Kent E. Sims, Friend, Bolingbrook
Jeannine Smith, Friend, Lake in the Hills
Laura Ross Stuart, Friend, Geneva
St. Charles Park District
Tyler Creek Watershed Coalition
United City of Yorkville
Shawn Van Kampen, Friend
Village of Algonquin
Village of Fox River Grove
Village of Lake Barrington
Village of Millbrook
Village of Oakwood Hills
Village of Oswego
Village of Port Barrington
Village of Sleepy Hollow
Village of South Elgin
Nancy Williamson & Steve Byers, Friends,
Village of Lakewood

Thank You to all who responded to our 2012-13 Membership Drive

Our 2013-14 Membership Drive will begin in June, in advance of the start of our new FY on 7/1/13
Dues statements will be sent in June to all current members
Watershed Planning
Next Meeting:

April 24, 2013

9 Lakes TMDL Webpage
Northern Moraine Water Reclamation District
113 Timber Trail Island Lake, IL
The Chicago Metropolitan Agency for Planning (CMAP) received Clean Water Act funds from Illinois EPA to facilitate the development of a watershed-based plan for the "9 Lakes Planning Area" in southwestern Lake and southeastern McHenry Counties. The plan will utilize data and information that an ongoing TMDL (Total Maximum Daily Load) analysis will provide.

The ultimate goal of the planning process is to determine where and which best management practices (BMPs) can best be implemented in order to reduce pollutant loads to the following nine lakes as well as the Fox River:



A. Cotton-Mutton Creek Watershed

: Island Lake, Woodland Lake, Lake Napa Suwe, Ozaukee Lake


B. Slocum Lake Drain - Fiddle Creek Watershed:

Slocum Lake


C. Tower Lake Drain:

Tower Lake, Lake Fairview, Timber Lake, Lake Barrington

Planning partners include the Lake County Stormwater Management Commission, Lake County Health Department – Lakes Management Unit, FREP, and the 4 Lakes Initiative. All community members who live, work, or play in these watersheds are invited to attend and participate in this unique planning opportunity. FREP's role is to maintain a project webpage on the FREP website and to provide project updates through this Downstream newsletter.
Additional Watershed Planning & Activity:
A number of other Fox River subwatershed groups are in various stages of developing, completing, and implementing plans for their watersheds. FREP continues to be a central source of information for these activities and will post meeting dates and information, and news of new planning here in the Downstream and on our website HERE.
The following Watersheds are having regular meetings.
Please check the links for information about meeting dates:
9 Lakes TMDL Implementation Planning Project
Webpage

Blackberry Creek Watershed Webpage

Ferson-Otter Creek Watershed Webpage

Tyler Creek Watershed Webpages



Jelkes Creek-Fox River Watershed Coalition




NEW:

The Jelkes Creek-Fox River Watershed Plan was approved by IEPA in December and the final plan and Executive Summary can be viewed HERE

Jelkes Creek-Fox River Watershed Coalition
Webpage

Silver & Sleepy Hollow Creeks Watershed Coalition
Webpage



Spring Creek Watershed

Website



Woods Creek Watershed Study Stakeholders

Website
***EPA Website that should be helpful to all the planners:
Healthy Watersheds
Other Activities & News of Interest
If you have an activity or event you'd like FREP to share on our Website or in the Downstream, please email the information to Becky at

: foxriverinfo@comcast.net
Sunday
April 14, 2013
9:30 AM

Garfield Farm Museum's Woodland Wildflower Walk


Guided by Jerome Johnson, museum biologist, the tour will visit Harley Pond and Woods, an ephemeral wooded wetland. The much later spring of 2013 is closer to the historic norms as bloodroot is not expected in full bloom before April 15. Only this week have the first bloodroot blooms been spotted and the sound of chorus frogs arise from this vernal pool.
Reservations for the $6 walk can be made by calling 630 584-8485 or e-mail info@garfieldfarm.org
Thursday
April 18, 2013

The Conservation Foundation's Earth Day Benefit Dinner


Bobak's Signature Events, Woodridge
Fee Reservations Required Website
Saturday
April 20, 2013

Earth Day 2013 Celebration


Prairieview Education Center, Crystal Lake
Thursday
April 25, 2013

GreenTown: Building Healthy, Sustainable Communities


Hotel Arista, Naperville
(Pre-conference events on April 24) See FLYER for details

Healthy people. Healthy communities. Join DuPage FORWARD and Kane County Fit for Kids for GreenTown, an experience designed to create healthy, sustainable communities. Our aim: to bring together the public sector and the private sector to "connect the dots", to inspire and to work together to remake our communities. From healthy living to local food, energy to green infrastructure, water to outdoor space, GreenTown will help you make the healthy choice the easy choice.
Saturday
May 4, 2013
8 AM - 12 PM
12th Annual Fox River & Chain O'Lakes Clean-Up


Several locations to start from,

See flyer for details HERE
Saturday
May 4, 2013
9 AM
Building a Community Rain Garden
Bicentennial Riverfront Park, near the Yorkville Dam

See details below



Sunday
May 5, 2013
2 PM

Free Guided Nature Walk at Dixie Briggs Fromm State Nature Preserve


Starting from Eastmoor Lane, Alonguin (see article above)
Friday
June 21, 2013
11 AM - 2 PM

Village of Algonquin's 11th annual Conservation Community Day


Theme: Local Farms=Fresh Food=Better Health
Woods Creek Bike Path
Of Special Interest
• Building a Community Rain Garden, Bicentennial Riverfront Park, near the Yorkville Dam
Saturday, May 4



A

s you are aware, the Fox River is a major environmental and economic resource for the Fox River Valley. Protecting it is of importance to the many communities up and down the river. We hope you might enjoy joining your neighbors and friends along the banks of the Fox River to help build a community rain garden on Saturday, May 4 at 9 a.m. at Bicentennial Riverfront Park near the dam in Yorkville.

There will be a few comments about the importance of using best management practices, such as rain gardens, to protect our water resources. The rain garden project is being

organized by The Conservation Foundation, City of Yorkville, University of Illinois Extension and the Kendall County Soil & Water Conservation District

. It is a part of a project that will hopefully install demonstration gardens in several Kendall County communities along the river.

Those in attendance will learn why rain gardens are important for managing and filtering stormwater runoff, and how they attract beneficial wildlife. Then, those interested can help to plant the demonstration rain garden and hopefully want to go home and plant one in their yard!

Questions? Please feel free to contact Laura Schraw, United City of Yorkville, 630-553-8574; or John Church, The Conservation Foundation, 312-550-7119 or email jchurch@theconservationfoundation.org.
•

2013 Watershed & Stormwater Mangement Webcast Series from The Center for Watershed Protection is being hosted by the Lake County Stormwater Management Commission.
A series of live webcasts for public works, engineers and others on topics such as stormwater retrofits, stream restoration and other BMPs, and guidance on meeting NPDES Phase II requirements.
FREE, bring lunch. RSVP requested for each webcast. For complete details and topics CLICK HERE


Dates are: 4/17, 5/15, 6/19, 9/18, 10/16, 11/20 11 AM to 1 PM
•

Illinois Riverwatcher Spring 2013 Issue from The National Great Rivers Research & Education Center
•

Kane-DuPage Soil & Water Conservation District's Spring Tree & Fish Sale information is now posted HERE
Order deadlines in late March and early April.
•

The Citizen's Guide to Preserving the Fox River has been available at more than 100 distribution points along the Fox River and in the watershed, but now the

supply is about out.

The

online version of the Citizen's Guide

continues to be available HERE, along with a website full of information about how to help preserve our Fox River through your own actions.

Funding Opportunities
SCALE Grant from IEPA to support Stream Cleanups
It's easy and with the SCALE grant from IEPA, you can get funding for supplies! Stream clean ups are a great way to get your community involved and invested in improving water quality. Pick a day, get some people together, and pick up some trash!

Details HERE

Becky Hoag, Communications Manager, Fox River Ecosystem Partnership 630-482-9157
foxriverinfo@comcast.net Please Email me if you have an Email to add to our mailing list.
FREP WEBSITE: foxriverecosystem.org

This newsletter is posted on the FREP Website on the Downstream Newsletter Archives Page