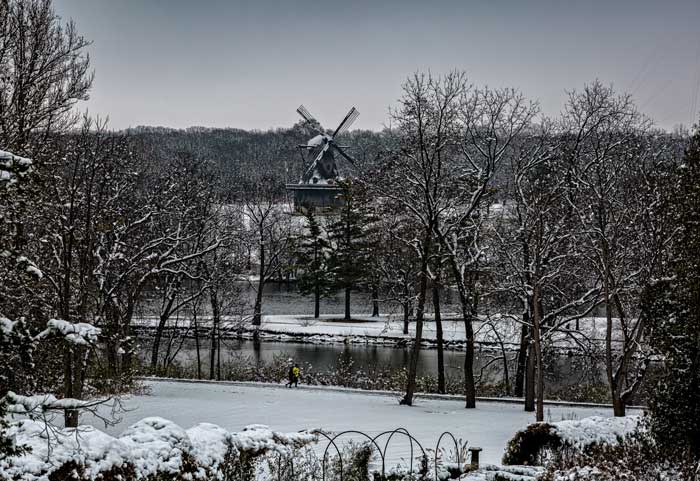 Fabyan Windmill, Fox River, Geneva
Your membership in FREP means a great deal in sustaining or partnership for 20 years.
We hope you will continue this connection as we explore ways to further improve
and enhance our vital Fox River watershed.
Oswego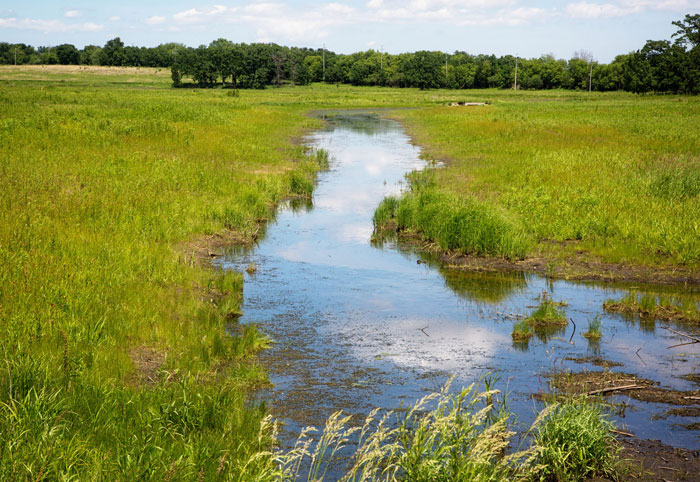 Nippersink Creek, Glacial Park
St. Charles
Photography by Mike Hoag
President's Message


Celebrating the holidays at our December 7th social at Hardware Sustainable Gastropub & Brewery in North Aurora. Even when we party, we think ecology, and got the full tour of this new place filled with reclaimed items in the building and decor, and their own greenhouse, on view from the dining room.



Happy Holidays to all our FREP members and friends!
Pictured, right:

Our July 20th Anniversary picnic at Kane County's Jon Duerr Forest Preserve.
The annual Fox River Summit on March 16th in Burlington, WI. Karen Ann Miller sharing an update on the WI-IL Fox River Water Trail Initiative, and the large crowd in attendance.
Your FREP Executive Committee Members
in our 2016, 20th Anniversary year:
Jeff Mengler, Hey and Associates, President
Maggie Soliz, Applied Ecological Services, Vice President
Andrea Cline, Geosyntec Consultants, Secretary
Elizabeth Hagen-Moeller, Kane-DuPage Soil & Water
Conservation Dist., Treasurer


Advisors:




Agriculture


Janice Hill, Kane County Development Department


Conservation


Rob Linke, Kane County Div. of Environmental &
Water Resources


Education


Elizabeth Hagen-Moeller
Kane-DuPage Soil & Water Conservation District


Government Relations


Katie Parkhurst, Village of Algonquin


Habitat


Jeff Mengler, Hey and Associates


Lakes


Holly Hudson,
Chicago Metropolitan Agency for Planning (CMAP)


National Water Trail Initiative


Karen Ann Miller, Kane County Development Dept.


Water Resources


Dan Lobbes, The Conservation Foundation
Representative to Fox River Study Group
Megan Andrews, Kendall County Soil & Water
Conservation District



Ex-Officio Members


Bill Donnell, City of Aurora
Cindy Skrukrud, Sierra Club
Tim Pollowy, Hey and Associates
John Church, The Conservation Foundation
Becky Hoag, FREP Communications Manager
Jeff Mengler, Hey and Associates, FREP President
FREP Membership Roll
Thank you to all who responded to our membership drive for 2016-17!
Michael Ander, Friend, Sleepy Hollow
Applied Ecological Services
Barrington Area Conservation Trust
Barrington Area Council of Governments
Batavia Park District
Baxter & Woodman
Christopher B. Burke Engineering, LTD
Campton Historic Agricultural, Inc./
Garfield Farm Museum
Campton Township
John Church, Friend, Oswego
City of Aurora
City of Batavia
City of Elgin
City of St. Charles
Linda Cole, Friend, Aurora
The Conservation Foundation
Crystal Lake Park District
DeKalb County Forest Preserve District
Deuchler Environmental, Inc.
Bill Donnell, Friend, Aurora
Dundee Township
Engineering Enterprises, Inc. - EEI
Environmental Defenders of McHenry County
Forest Preserve District of Kane County
Fox Metro Water Reclamation District, Oswego
Fox Valley Park District, Aurora
Friends of the Fox River
Geneva Park District
Geosyntec Consultants
Hey and Associates
Kane County Development & Community Services Dept
Kane-DuPage Soil & Water Conservation District
Kendall County Forest Preserve District
Kendall County Soil & Water Conservation District

Lake County Forest Preserve District
Lake County Stormwater Management Commission
Lake in the Hills Sanitary District
Rob Linke, Friend, St. Charles
Living Waters Consultants
Julie Long, Friend, St. Charles
McHenry County
McHenry County Conservation District
McHenry County Conservation Foundation
Oswegoland Park District
Jason Pettit, Friend, Aurora
Larry Rakunas, Friend, St. Charles
Schoppe Design Associates, Inc.
Jack Shouba, Friend, St. Charles
Sierra Club, Illinois Chapter
Kent E. Sims, Friend, Bolingbrook
St. Charles Park District
Laura Ross Stuart, Friend, Geneva
Tallgrass Restoration, LLC
Tyler Creek Watershed Coalition
United City of Yorkville
V3 Companies
Shawn Van Kampen, Friend, Aurora
Village of Algonquin
Village of Fox River Grove
Village of Lake Barrington
Village of Millbrook
Village of Oakwood Hills
Village of Port Barrington
Nancy Williamson & Steve Byers, Friends, Lakewood
The

FREP Membership Roll

is also posted on our website HERE.
Links are provided for those members who have websites
We share this list in each issue so that readers of Downstream can easily find links to our members,
to promote communication and collaboration on Fox River watershed issues.
Upcoming FREP Membership Meeting:
Wednesday, January 11, 2017 1 PM
FREP Membership Annual Meeting & Officer Elections
The Centre of Elgin, One Symphony Way


Program:

Road Salt, Rob Linke, P.E., CFM,
Kane County Div. of Environmental & Water Resources

FREP Executive Committee meets at 11 AM

Slate of Officers:

President: Jeff Mengler, Hey and Associates
Vice President: Maggie Soliz, Applied Ecological Services
Secretary: Andrea Cline, Geosyntec Consultants
Treasurer: Elizabeth Hagen-Moeller, Kane-DuPage Soil & Water Conservation Dist.

March 2017


We will not hold a membership meeting in March. Instead, we encourage our members to attend the
5th Annual Fox River Summit
Friday, March 17, 2017
7:30 AM - 4:30 PM
in Burlington, WI
Details coming soon.
FREP Noon Networks 2017:

Wednesday, February 8th, 2017

Noon - 1:30 PM Location TBA


Program:

Kane County Open Space Referendum
Monica Meyers, Forest Preserve Dist. of Kane County &
Brook McDonald, The Conservation Foundation


Wednesday, April 12, 2017

Noon - 1:30 PM Chicago Living Corridor (CLC)

Wednesday, June 14, 2017

Noon - 1:30 PM
Tour of Midwest Groundcovers Facilities on Rt. 64 in St. Charles

Your

suggestions for FREP Noon Networks

and

Meeting Programs

are welcomed. Noon Networks feature projects, best management practices, and topics of interest to the FREP membership and general public. We move these
programs around the watershed to reach a larger audience.
The following 2017 dates are available for programs & hosting:
Noon Networks: February 8th and October 11th


Membership Meetings:

May 8th and September 13th

To arrange to host a FREP Noon Network or Membership Meeting

,
please contact Becky Hoag, Communications Manager, 630-482-9157 foxriverinfo@comcast.net

FREP on Facebook
FREP has a Facebook page.
Please visit & LIKE our page!

Minutes of FREP Meetings

can be found HERE.
Our Fox River Watershed Partners
WI-IL Fox River Water Trail Initiative
FREP has joined with the Southeast Wisconsin Fox River Partnership and the Village of Waterford, Wisconsin, to pursue the designation of all or portions of the Fox River in Wisconsin and Illinois as a National Water Trail through the National Park Services' National Water Trail System. Technical assistance from the NPS Rivers, Trails and Conservation Assistance Program has been awarded and planning is now proceeding.
The current

Core Development Team

Karen Miller, FREP; Angie Tornes, National Park Service; Greg Farnham, Rock River Trail Initiative; Brian Daly, CMAP; Tom Slawski, Southeast Wisconsin Fox River Partnership; Rick Kania, SEWRPC; Jodie Auliff, Illinois Paddling Council; and Barb Messick and Rebecca Ewald, Village of Waterford, WI.
UPDATE:

The Core Development Team met on Monday November 28th in Silver Lake, Wisconsin. Matthew Collins, Director of Kenosha County Parks and Recreation spoke to the Team about their water trail, access sites and signage. Matthew offered his support of the Wisconsin-Illinois Fox River Water Trail Initiative. The Team's newest member, Greg Taylor, attended the November meeting. Greg is an active member of the Illinois Paddling Council and has offered to be the coordinator of volunteers in Illinois. The Team continued to revise the data collection forms for segment data. Karen talked about Illinois dam data acquired from the Fox River Study Group. Angie confirmed with Brian that CMAP will be able to print maps of the water trail as they are created and provide an online portal. The next meeting is scheduled for Monday January 9th, location to be determined.

For more information, visit the

Water Trail Initiative page

HERE, or contact Karen Ann Miller at millerkaren@co.kane.il.us.
Other Activities & News of Interest
If you have an activity or event you'd like FREP to share on our Website or in the Downstream, please email the information to Becky at

: foxriverinfo@comcast.net
Sunday
December 11, 2016
12 - 4 PM

Friends of the Fox River's Nature Arts & Crafts Show


Schweitzer Environmental Center, Schweitzer Woods
16N900 Sleepy Hollow Road, West Dundee Website
Wednesday
February 8, 2017

Fox Valley Sustainability Network Forum on Food & Waste


The Centre of Elgin, 100 Symphony Way, Elgin, IL
1151 N State Street, Elgin, IL Website
Friday
March 10, 2017

5th Annual Fox River Summit


Burlington, Wisconsin Details TBA


NOTE:

Date change. Originally scheduled for March 17th.
Tuesday
April 4, 2017

Center for Watershed Protection's 2017 National Watershed & Stormwater Conference


Details to come Website
Becky Hoag, Communications Manager, Fox River Ecosystem Partnership 630-482-9157
foxriverinfo@comcast.net

Please email me if you have an email to add to our mailing list.
FREP WEBSITE:
foxriverecosystem.org
FREP on Facebook

This newsletter is posted on the FREP Website on the Downstream Newsletter Archives Page