FREP Noon Networks
Wednesday, August 10, 2016
Location: St. Charles Park District
Topic: Norris Woods Creek Stabilization and Water
Quality Improvement Project
Presented by: Denis Kania, Manager of Natural Areas
Norris Woods Creek is a tributary of the Fox River and is a small, flashy ephemeral stream that receives predominantly urban runoff. The purpose of the Norris Woods Creek Repair Project was to protect the Fox River from non-point source pollutants from stream channel erosion, a golf course and urban runoff. The channel scouring revealed an area containing small boulders and large cobble that had developed into a short section of relatively stable, aesthetically pleasing and geomorphologically appropriate stream channel.
Norris Woods Creek Presentation
Wednesday, June 8, 2016
Location: Glacial Park, Ringwood
Topic:

Nippersink Restoration & Tile Removal


Presented by: Ed Collins, Director of Land Preservation & Natural Resources, McHenry County Conservation Dist.
The restoration of Nippersink Creek has been a decade's long process and involved multiple partners, grantors and volunteers. It has occurred in phases, beginning with headwater streams that feed the main stem of the river and the completion of four major projects in the main channel. These have included de-channelization, bank stabilization, in stream riffles, extensive invasive species control and reseeding of native plant communities.
Detailed description of the project
Wednesday, April 13, 2016
Location: Aurora's RiverEdge Park
Topic:
Aurora Sustainable Design - RiverEdge Park
& Rain Gardens

Presented by: Eric Schoney, City of Aurora, and
Patrick Kelsey, WBK Engineering
RiverEdge Park, an 11.3-acre, master-planned outdoor destination located on the banks of the Fox River in downtown Aurora IL. The park includes of an outdoor theatre featuring world-class amenities such as sound and lighting instruments, a mix tower, concessions facilities, and site utilities. Additionally the park includes a recreational, multi-use trail, concrete plazas and walks, native landscaping, and 40,500-square feet of permeable paver plaza.

The Park was built using sustainable design practices and included the restoration of the Fox River shoreline and Blues Island providing a collection of amenities for both active and passive recreation opportunities. The Park opened to the public in June of 2013 and has become a popular entertainment destination, attracting 100,000 patrons from the region in the summer of 2015.

The Park was designed by the Aurora Park Collaborative. Local firm WBK provided environmental engineering, landscape architecture, permitting services and construction management.
Rain Gardens
As part of Aurora's green component to their Long Term Control Plan for CSO control, the City of Aurora built 112 individual rain gardens at 17 city intersections in 2014. This $1.7 million project is funded by the largest IEPA Illinois Green Infrastructure Grant to-date and relies on Aurora's sandy soils to provide significant infiltration/volume control.

Design considerations included multiple engineered soil mix pilots, traffic operations design, ADA curb ramp upgrades, neighborhood-based landscape architecture restoration plans, provision for future performance monitoring, storm water quantity and quality modeling, routine and non-routine rain garden maintenance, and integrated public informational meetings.

The incorporation of green features into this project has resulted in an aesthetically impactful community amenity for the City of Aurora. Strand and project partner, Hey and Associates, designed Aurora's rain gardens.
Using Green Infrastructure to Control Combined Sewer Overflows & Aurora Rain Garden Program - Eric Schoeny, City of Aurora
Wednesday, February 10, 2016
Topic:

Chicago Region Trees Initiative (CRTI)

Website
Presented by: Melissa Custic, Chicago Region Trees
Initiative Coordinator, Morton Arboretum
The Chicago Region Trees Initiative (CRTI) is a collaborative partnership for coordinated action on key issues facing trees. It is the largest such initiative in the country, with leading organizations and agencies from across the seven-county metropolitan region working together. CRTI is leveraging funding, knowledge, skills, and expertise to build a healthier, more diverse regional forest.
CRTI Presentation
Wednesday, August 19, 2015
Topic:

Silver Lake Bioinfiltration Basins and Oakwood Hills Fen Stream Corridor Restoration projects
The Stream Corridor Restoration EPA 319 project description:

to restore 0.75 acres of wetland and stabilize 850 feet of an unnamed tributary of Silver Creek, which is a tributary of the Fox River (ILDT-22). Streambank stabilization techniques may include rock riffles, re-grading, rock toe, live brushlayers, fiber roll, live stakes, natural log weir, natural log terrace, and deep-rooted native vegetation. Wetland restoration may include construction of a sediment forebay, flow routing, re-grading, re-shaping, and deep-rooted native vegetation. The project site is immediately upstream of the Oakwood Hills Fen Nature Preserve. Educational signage and a brochure will also be developed to inform the public about nonpoint source pollution and this restoration project.
Bioinfiltration Project description:

to improve the water quality of Silver Lake and the adjacent Oakwood Hills Fen. Untreated runoff from residential areas and roadways discharged directly into Silver Lake at the two project locations, Birch Lane and West Woodland Road. This untreated discharge caused erosion and contributed to sedimentation and pollutants entering Silver Lake and ultimately into the fen. To improve water quality, the Village of Oakwood Hills secured a grant from the Illinois EPA and installed a bioinfiltration basin at each site.
Bioinfiltration Project Brochure
Wednesday, June 17, 2015
Topic:

Fox Valley Park District's Naturalized Areas as part of a Sports Complex Expansion


Stuart Sports Complex, 39W585 Jericho Rd
Montgomery, Illinois 60506
Presenters: Michael K. Erickson, ASLA, Director of Parks and Facility Maintenance, Fox Valley Park District,
and Keith Jones, V3
As one of the largest sports complexes in the Midwest, Stuart Sports Complex is a premier location for hosting local, regional and national tournaments. Encompassing 317 acres, Stuart Sports Complex offers a vast array of recreation opportunities as one of the largest outdoor sports facilities in the Midwest. On an annual basis, more than 4,000 athletic contests are held at Stuart, involving over 75,000 participants and attracting well over 100,000 spectators. Stuart is the central hub for dozens of local sports affiliates – primarily soccer, baseball and softball – ranging from youth soccer leagues to Little League baseball and adult slow-pitch softball. In addition, Stuart is the home turf for numerous high school, college and semi-professional teams from throughout the area. The Stuart Sports Complex is also proud to have over 50 acres of natural areas. These areas include everything from wetland to upland prairie. The design of these natural areas started with two farmed wetlands and created a corridor which runs through the southern portion of the site. Starting on the east side of the site with one of the farmed wetlands, the natural areas flow through some wetlands and under the main road ending up on the west side, terminating at the lake used for irrigation. Underground, this site has large deposits of sand and gravel which aid in the replenishment of the irrigation pond.
Wednesday, Feb. 18, 2015
Topic: Woodhills Bay Colony Stormwater Master Plan:
Stormwater Retrofit & Green Infrastructure
Planning at the Subdivision Scale
Presented by Michael E. Novotney, PE,
Water Resources Professional
Lake Co. Stormwater Management Comm.
Novotney discussed a Stormwater Master Plan that was recently developed for the Woodhills Bay Colony, a multi-family residential community encompassing approximately 15 acres in the Village of Fox Lake, Illinois. The Plan presents an overall stormwater management strategy for the community and a framework for addressing the community's stormwater-related issues and needs using a sustainable approach to stormwater management. The Plan, which was developed based on desktop and field assessment work conducted by Lake County Stormwater Management Commission (SMC) staff under a Watershed Management Board Grant from SMC, identifies actions and/or provides concept designs for projects that could be used to address each of the more than 60 individual stormwater-related issues affecting the community.

SMC staff, representatives of the Woodhills Bay Colony Homeowners Association, and representatives of the Village of Fox Lake all worked together on the Plan to identify and inventory the stormwater infrastructure serving the community, investigate and evaluate the community's stormwater-related issues and needs, and identify and develop potential solutions to those issues. The Plan is intended to guide decision-making within the Woodhills Bay Colony over approximately the next ten years and to be updated periodically as projects are implemented and community stormwater management goals are achieved.
Presentation
Wednesday, October 16, 2013


Topic:

Trout Park Forested Fen, Elgin




Presented

by

Steve Byers, of the
Illinois Nature Preserves Commission
About Forested Fens and long-term efforts to protect this community at the former Fox River Country Day School.
Presentation
Wednesday, August 21, 2013
Topic:

Elgin's Lord Street Basin CSO Green Infrastructure Retrofit Project


Presented by Rob Linke, P.E., CFM Trotter & Associates, Inc., and Aaron Cosentino City of Elgin
Presentation
Photos
Wednesday, February 20, 2013
Topic:

Local = Farms Local Foods


Presented by Janice Hill, AICP Executive Planner, Kane County Development and Community Services Department Jackie Forbes, MS Health Planner, Kane County Health Department
Presentation
Wednesday, October 17, 2012
Topic:

Blackberry Creek Dam Removal in Yorkville


Presented by Loren A. Wobig, P.E., CFM Project Manager IDNR Water Resources
Presentation
Wednesday, February 15, 2012
Topic:

EPA 319 Grant Workshop


Workshop Presentation Our 319 Grant Page
Wednesday, October 19, 2011
Topic: Ferson Creek dam removal at
LeRoy Oakes Forest Preserve, St. Charles

This project represents Phase I of multi-phased program to create uninterrupted fish passage throughout 44 miles of stream habitat in the Ferson-Creek watershed. Our primary objective for Phase I is to remove the impassable dam at Creek Bend Forest Preserve and to modify one low-water barrier located downstream of Creek Bend, in order to open 6.3 miles of lower Ferson-Otter Creek to the Fox River. Completion of Phase I will allow us to use these projects as models for low cost stream restoration, and to give examples to present to other private landowners in order to foster cooperation for the watershed wide approach. Phase one will also include evaluation of the fish community response.
Ferson Creek (above) before dam removal
(below) after removal

Wednesday, August 17, 2011
Topic:


Restoring Natural Resources in the Silver Creek Watershed -- Oakwood Hills Park & Fen Nature Preserve, Oakwood Hills




Presenters:


Kerry Leigh, Trustee with the Village of Oakwood Hills
Steve Byers, Field Representative with the Illinois
Nature Preserves Commission

Kerry Leigh discussed the restoration of the fen wetland buffer at Oakwood Hills Park done by the Village with financial assistance from the USFWS and in-kind services from the McHenry County Conservation District (MCCD). Steve Byers talked about fens and the unique natural resources associated with Oakwood Hills Fen Nature Preserve. The program included a tour of the restoration area and the Oakwood Hills Fen, which is an Illinois State Nature Preserve.

This event is sponsored by the Fox River Ecosystem Partnership, Village of Oakwood Hills, and the Environmental Defenders of McHenry County. Funded by Section 604(b) of the Clean Water Act by way of a grant from the Illinois Environmental Protection Agency, Bureau of Water, to the Chicago Metropolitan Agency for Planning (CMAP).

Watershed Planning Group Link

Pdfs:

FENS: More than "Peat with Calcerous Seepage"

CLASS III SPECIAL GROUNDWATER CLASSIFICATION

Map of Oakwood Hills Park & Fen Nature Preserve

Wednesday, February 16, 2011
Topic:
Nippersink Watershed Social Research Study
Maintaining What We Value:
The Nippersink Creek Watershed Management Plan
A Report on the Community Survey
Presented by Joan M. Brehm, Associate Professor of
Sociology, Department of Sociology and Anthropology,
Illinois State University

Pdf of Presentation Link to the Report
The Nippersink Watershed Association commissioned a report, prepared by Illinois State University, under a Section 319 grant provided by the U.S. Environmental Protection Agency / Illinois Environmental Protection Agency, to provide a summary of the findings resulting from a recent survey of Nippersink Watershed residents. These findings will help to guide on-going and future outreach efforts in encouraging watershed stakeholders to recognize the significant value of Nippersink Creek, and to work cooperatively to implement the Nippersink Creek Watershed Plan.
Wednesday, August 18, 2010
Topic:
Jelke Creek Reclamation Project, Dundee Township
Presented by Sue Harney, Dundee Township Supervisor

Jelke Creek Bird Sanctuary Webpage

Wednesday, October 21, 2009
Topic:

Otter-Ferson Creek Dam Modification Project

Presented by Ken Anderson, Kane Co. Dept. Environmental Management PDF of Presentation
Wednesday, August 19, 2009
Topic:

Valley Lakes Pond & Wetlands Project


Presented by Tallgrass Restoration & Valley Lakes
PDF of Presentation
Wednesday, April 15, 2009
Topic:

Dixie Briggs Fromm Stream Corridor Restoration Project


Presented by Sue Harney, Dundee Township,
with Ted Gray of Living Waters Consultants
PDF of Presentation
Wednesday, December 17, 2008
Topic:
Ultra Energy-Efficient Houses - New & Remodeled
How far can we take energy efficiency?
The One-Watt-House approach: new examples. Priorities for efficiency remodeling.
Marko Spiegel, Conservation Technology International Website
Wednesday, October 15, 2008
Topic: Award-winning Conservation Design Projects in the Blackberry Creek Watershed

(14,548 KB pdf file)


Dennis Dreher & Matt Bardol,
Cowhey Gudmundson Leder, Ltd.
Wednesday, August 26, 2008
Topic:

Farming and the Environment


Farm Bill Presentation -
Food, Conservation & Energy Act 2008
Links: http://www.ers.usda.gov/farmbill/2008/
The Chicago Climate Exchange website
Wednesday, October 17, 2007
Topic:

BMP Design, Implementation & Inspection Geneva Middle School


Presented by Keith Jones and George Milner, Senior Ecologists in V3's Wetland Ecology Group
Presentation V3 Website
Description of the project
Native Landscape Planting Plan Aerial Photo
FREP Meetings
Wednesday, January 11, 2017
Topic:

Impacts of Chlorides in the Fox River Watershed and Winter Deicing Practices


Presented by: Rob Linke, P.E., CFM, Senior Water Resources Engineer; Cecilia Govrik, Resource Management Coordinator Kane County Division of Environmental & Water Resources
Presentation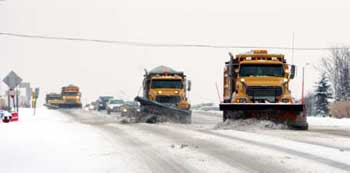 Wednesday, May 11, 2016
Location:

Ganek Municipal Center/Algonquin Village Hall


Topic:

Woods Creek Watershed Plan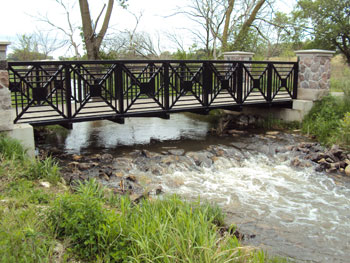 In early 2011, the inter-governmental group of partners, known as Woods Creek Watershed Committee (WCWC), consisting of Algonquin, Lake in the Hills, Crystal Lake, and Crystal Lake Park District applied for and received Illinois Environmental Protection Agency funding through Section 319 of the Clean Water Act to produce a comprehensive "Watershed-Based Plan" for the Woods Creek watershed.

As part of the plan, an inventory of the characteristics, problems, and opportunities in the watershed was examined resulting in a list of action items and projects to be implemented. Using the watershed plan as a guide, the Village of Algonquin has completed several projects listed in the action plan.

These include restoration of the Spella Fen buffer, the Cove drainage ditch, and much of the riparian area adjacent to Woods Creek.

A successful watershed plan involves participation to get projects completed. Using the data analysis in the plan along with calling out critical restoration areas, both the Village of Algonquin and the Crystal Lake Park District have now received 319 grants for project implementation.
Woods Creek Presentation
Wednesday, January 13, 2016
Topic:

The Protection & Stewardship of Crystal Lake and Its Watershed


Presented by: Jeff Wickenkamp, PE, CFM, D.WRE (Vice President), and Jeremy Husnik, CPESC (Engineering Technician) of Hey and Associates, Inc and Abigail Wilgreen, PE, City Engineer for the City of Crystal Lake
The presentation includes a characterization of Crystal Lake; a summary of Design Manual and what went into it; the implementation of the Design Manual; and finally results from annual monitoring reports on BMPs constructed under the Design Manual; and ecological management of the lake over.

The Design Manual was first adopted in 2007 and the monitoring results presented include 2015.
Crystal Lake Watershed Presentation
Wednesday, November 18, 2015
Topic: Impact of Coal Tar and Other High PAH
Pavement Sealants
Presented by: Janet Agnoletti, Executive Director
Faye Sinnott, Committee Member
Barrington Area Council of Governments BACOG
The Barrington Area Council of Governments (BACOG) began studying coal tar-based sealants as an environmental protection issue. Upon recognizing that these sealants contain polycyclic aromatic hydrocarbons (PAHs), a known carcinogen, and pose a threat to humans as well as the environment, BACOG and its Water Resources Committee initiated a public education campaign in summer 2015 to alert residents.

Executive Director Janet Agnoletti reviewed the work done to date and actions being considered by BACOG's member governments, such as municipal bans, an intergovernmental agreement, or a joint resolution to limit use of coal tar sealants. Committee member Faye Sinnott discussed the research conducted by the USGS and other agencies that shows how much PAH is given off by coal tar sealants and how it gets into humans and aquatic ecosystems.
Coal Tar Presentation
Wednesday, Jan. 21, 2015
Topic:

Assessing harmful algal blooms (HABs) in Lake County surface waters


Presented by Mike Adam, Senior Biologist,
Lake County Health Dept.
The Lake County Health Department (LCHD) annually monitors approximately 100 swimming beaches, which are daily used by thousands of people during the summer season. Public health is currently assessed based on levels of the indicator bacteria E. coli. Toxins from harmful algal blooms (HABs) are not considered. Due to extensive blooms in 2012 in numerous Illinois lakes, the Illinois EPA partnered with the LCHD in 2013 and 2014 to assess the presence of HABs at swimming beaches and recreational waters in Lake County. In addition to localized bloom events in lakes, 30 beaches were routinely monitored bi-monthly. Results from this pilot study were presented and implications for public health discussed.
Presentation
Wednesday, May 21, 2014
Topic: 319 Grants Information


Presented by Holly Hudson, CMAP
Presentation
Wednesday, November 20, 2013
Topic:
Aurora Green Infrastructure & Rain Garden Project Presented by Eric Schoeny, City of Aurora

Eric presented a number of successful green infrastructure projects completed in Aurora and gave an overview of the planning of 28 new rain gardens which will be installed in Aurora next spring. This project will be completed with the assistance of a $1.45 million IGIG grant.
Presentation
Wednesday, September 18, 2013
Topic:
Kane County's 2040 Green Infrastructure Plan
Presented by Dennis Dreher, Geosyntec Consultants; Nancy Williamson, IDNR and Chicago Wilderness SWAT;
and Karen Ann Miller, Kane County Development Dept.
Presentation - Dreher & Williams

Presentation - Miller
Link to:
Draft Kane County 2040 Green Infrastructure Plan & Map
Friday, April 5, 2013
FREP Legislative Focus
Topic: 2013 State Legislative Agenda
Illinois' Energy Future
Presented by Jack Darin, Director of Sierra Club-Illinois
Presentation
Wednesday, January 16, 2013
Topic: Lake Michigan Water Allocation and
Impacts to the Fox River
Dr. John Jansen, Cardno Entrix
Presentation
Dr. Jansen discussed water supply planning in the Fox River Valley in Illinois and Wisconsin and talked about the potential impact of more aggressive development of the sand and gravel aquifer on the base flows of the Fox River. This development is the most likely alternative to increasing the Lake Michigan diversions, which will be difficult under the Great Lakes Compact. Options to mitigate the potential impact by jointly using surface water and groundwater to balance supply and demand (Aquifer recharge and aquifer storage, etc.) will be presented. Dr. Jansen has been retained by communities involved in these issues including Waukesha, Wisconsin and Crystal Lake, Illinois.
Dr. John Jansen is a Senior Managing Hydrogeologist at Cardno ENTRIX with over 30 years of experience in his field; he has broad experience in groundwater resource development, engineering and environmental geophysics, groundwater modeling, and wellhead protection. He previously worked nationally as an independent groundwater consultant and as the senior geoscientist for an international well construction contractor. He has conducted over 200 ground water resource investigations throughout the United States and Mexico.

Dr. Jansen is the author of numerous publications and presentations on groundwater related topics including the borehole geophysics section in the third edition of Groundwater and Wells, and holds three patents on well rehabilitation, horizontal drilling, and in-situ radium treatment. Dr. Jansen has been an expert witness in several water resource cases. Recently, The National Ground Water Association (NGWA) announced Dr. Jansen as the recipient of the 2012 Keith E. Anderson Award in recognition of his outstanding contributions to the Scientists and Engineers division of NGWA. Dr. Jansen has been actively involved with NGWA for 29 years, and served on the Board of Scientists and Engineers division from 2004 to 2007.

Dr. Jansen was the project manager and primary modeler to develop a regional groundwater model of the Troy Bedrock Valley Aquifer in southeastern Wisconsin. The model was funded by a consortium of municipal water utilities under the direction of the local regional planning agency. The model was designed to provide a common platform to assess surface water and groundwater impacts from a number of well fields planned as part of a regional water supply plan. The model is in the public domain and available to municipal water utilities, environmental groups, and the public to perform independent groundwater modeling for planning purposes and to evaluate potential environmental impacts of planned well fields.
Wednesday, May 16, 2012
Program:

NPDES Phase II: How Fox River Watershed Organizations can help communities in the Fox River Watershed meet their MS4 Permit Requirements


Rob Linke, P.E., Trotter and Associates
Presentation
Wednesday, March 21, 2012
Program:

Lower Fox River Land Conservation Planning Project

(LFR LCPP) Link
Presented by John Church, The Conservation Foundation
Wednesday, November 16, 2011
Program:

Watershed Planning
Presentation by Brian Valleskey,
Illinois Lakes Management Association
4 Lakes Watershed Initiative
Wednesday, January 19, 2011
Program: Northeastern Illinois Invaisive Plant Partnership
Presented by Catherine McGlynn Pdf of Presentation
Wednesday, November 18, 2009
Program: Region 1 Restoration Projects, McHenry County Conservation District
Presented by Gabe Powers, Ecologist, McHenry County Conservation District Presentation
Wednesday, September 16, 2009
Program:

State of the Fox River: Summary of Fish Sampling Efforts by Illinois Department of Natural Resources 1995-2009


Presented by Steve Pesctelli, Region II Streams Specialist Since 1995, Illinois DNR has conducted 160 fish community samples at over 120 sites in the Fox River Watershed, as well as many targeted studies for sportfish species. Evaluation of fish assemblages allows us to gauge the general health of the Fox River and its tributaries using the Index of Biotic Integrity (IBI), and to track trends in stream quality throughout the system.
Detailed description of the program
PDFs of Presentation: Part 1 Part 2 Part 3
Wednesday, May 20, 2009


Chicago Wilderness Green Infrastructure Plan (GIV)

Presented by Jeff Mengler, Chicago Wilderness & US Fish & Wildlife Service PDF of Presentation
Wednesday, May 21, 2008 N

orth Aurora Wetland Mitigation Project


Presenter: Tim Pollowy, Hey & Associates
PDF of Presentation
Wednesday, January 16, 2008
Program:

Poplar Creek Watershed Plan


Presentation: Jesse Elam, AICP, Senior Planner, CMAP Presentation:
Tim Loftus, Senior Environmental Planner, CMAP
Presentation: John White, Public Works, Village of Streamwood photos of Poplar Creek areas in Streamwood
Other Programs